Abstraction and Obsession - the Collage Paintings of Robert Boyed Mitchell


The world of sophisticated and well-designed magazines like Esquire, Harper's Bazaar and Vogue introduced Robert Boyed "Bob" Mitchell to his future art at an early age. "I am always seeing graphic design and thinking in graphic design terms." As a youth during the 1930s, he devoured these magazines in his family's newsagency, encouraging him to 'zoom in on aesthetics, surface, design and decoration'.

Robert Mitchell was born in Cobar in 1919, and in the late 1920s his family moved to Sydney. After the early death of his parents, Robert and his six older brothers and sisters ran the family newsagency in Marrickville.

In September 1941 he enlisted in the army, AIF 8th Division, Signals, to serve in World War II. By February 1942 he was a prisoner of war in Singapore, briefly in Changi, then at Adam Park. 10 months later he was taken to a prisoner of war camp at Kobe, Japan, where he remained until the end of the war in 1945. His prisoner of war experiences were recorded in drawings of camp life which were later elaborated and put into a scrapbook.

Robert Mitchell when he was 17, on right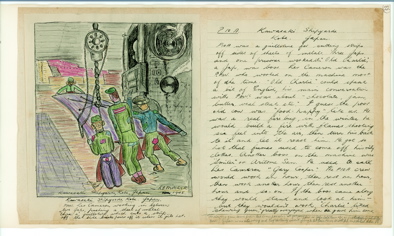 During his time at Kobe he worked at the shipyards, which were fired-bombed by American forces. In spite of this war experience, and the fear and starvation that accompanied it, Mitchell developed a curiosity about all things Japanese. He especially liked the architecture and beauty of the place, and the way they cultivated the landscape. Looking back on his war experience, Mitchell could say that although it was terrible, he was glad it happened to him. It is possible that his fascination with decorative art stemmed from his war experiences. For Mitchell, "decorative" was a means of "lessening, avoiding the pain of truth of our existence".






After the war he enrolled at the National Art School, Strathfield campus, as a returned serviceman under the Commonwealth Retraining Scheme to study art. His painting teacher, Wallace Thornton, introduced him to Bonnard, Frank Hinder taught him design, and he sat in on Godfrey Miller's still-life classes. Mitchell said, "I learned a lot in those art college years (1947 - 49), but the outstanding memory is of Phyllis Shillito, who taught us colour theory. She had shoe boxes of scraps of printed and plain fabrics, and bits of paper and such, and we had to pick out bits at random and place them side by side and see what we had got". His interest in collage was thus awakened early. In the same hear he did "Non-objective", a painting which had the seeds of the future.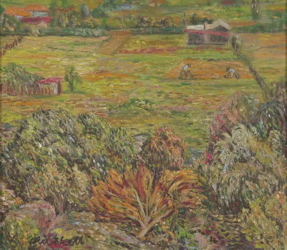 In 1949 Mitchell entered a landscape of Dee Why in the Mosman Art Prize which echoed the work of Bonnard and Van Gogh. With the help of books and magazines, he found his other lifelong influences in Picasso's cubism and collage, and Matisse's decorative line. "I can't put into words the quality of Matisse, which grips me and makes my mind so deliciously uneasy". About Bonnard, he later wrote "I think what I was seeing in him was his wonderful on the surface, direct dazzle … that seemingly loose structure … a coordinated mess, but what a mess!"

In his last year at the National Art School, he became desperate to go to New York, as he believed it was the best place to encounter modern art. Not having enough money at the time, he escaped from Australia in 1949 and went to England instead with his art student friend Jon Molvig, and others, before the final exams. He arrived in London, and made directly for the Tate Gallery to see their Bonnard paintings. During his stay he painted cubist works under the spell of Georges Braque, then moved to Cassis, France, for the summer, where he painted Bonnard-like landscapes.



Canada 1951 – 1961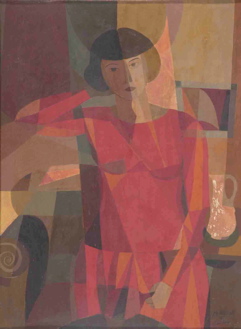 Mitchell soon succeeded in getting to Toronto, Canada, where he lived for the next decade. From here he could visit New York several times a year, and in 1951 he found (with difficulty, as it was not readily shown) the new modern art, Abstract Expressionism. A small Jackson Pollock painting and a de Kooning collage were important first impressions. He later recounted, "in the early Fifties, Pollock's paintings wordlessly spoke to me". Mitchell was one of the first Australians to seek out the American avant-garde.

Abstract Expressionism taught Mitchell that painting was an event, the record of a personal action, not a representation of a subject. According to a noted American art critic of the time, Abstract Expressionism represented "an individual, sensual, psychic and intellectual effort to live actively in the present." (H. Rosenberg, Possibilities, 1947). The theory was that the unconscious was directing the action, and therefore, the work couldn't help but express the individual consciousness and the spirit of the time. On the subject of abstract painting Mitchell wrote, "I hate rules. The rules are there in Abstraction – they arrange themselves for me and I don't even know what they are. What guides me – I've worked out for myself – I call intellectual instinct. I feed in all the facts, then quite often go into automatic pilot, and it's all coming out. I get into a state of euphoria".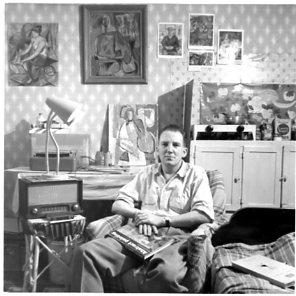 While in Canada, Mitchell encountered the backlash to Abstract Expressionism that occurred in New York in the mid-1950s. He scribbled "yes" alongside the sentence in Calvin Tomkins' book "Off the Wall", "To a whole generation of cool young artists, the heavy emotion and rhetoric of the Fifties had begun to seem phoney, absurd, and embarrassing". The new influences for Mitchell in a post-Abstract Expressionist period were Frank Stella, and especially Robert Rauschenberg, whose "Red" show in New York in 1954 "opened my eyes – like nothing I had seen before". For Mitchell, Frank Stella's paintings, in certain styles, led back to the Russian artist Wassily Kandinsky, whom he also admired. As for Rauschenberg, it was the layered real-life images, and the experimental materials and methods he used that captured Mitchell's attention. Mitchell later copied a quote from John Russell about Jasper Johns and Rauschenberg that stated their work "was predicated on the belief that a mixed mode of utterance was true to life being lived".

In response to the changing climate in modern art, Mitchell produced his "altered books", which were his way out of Abstract Expressionism under the influence of Rauschenberg. They involved defacing, with string, fabric and house paints, established art images in books, and turning them into abstract art. The first book, Degas, was done in Canada in 1960, while the Rodin series were made after he returned to London in 1961. Instead of including pictures of real life, he worked with pictures of real art, for his real world was art rather than life.


Robert Mitchell in 1953 inToronto



In the 1960s it was Pop Art that Mitchell related to. The media print culture had become a reality of its own and Mitchell could link this to his magazine and fashion world; his life in art. He continued to buy books and magazines on art, fashion, design, architecture, photography and advertising. The printed world became his landscape, with movement added through his love of musicals and films. During this time, Mitchell came to admire the work of Andy Warhol for his "synthesis of commercial and fine art, and his re-presentation of consumer goods, even more graphically, ie. sharper-edged or more grainied".



London 1961 – 1980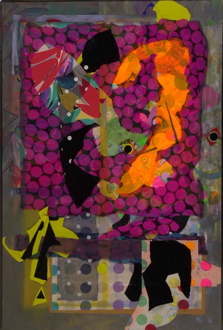 Mitchell spent the Sixties and Seventies working in London in the Furnishing Fabrics Department of John Lewis, Oxford Street store. These years were also spent developing his art, visiting exhibitions and absorbing the local music scene. He drew inspiration from a variety of sources including the Bauhaus, Mondrian and Matisse. He made several scrapbooks with cuttings and "altered art" images of the time. As well, he made heavily textured mixed-media reliefs, which were fragile and exist now only in photographs. A seminal influence came from Bernard Leach's book "Kenzan and his tradition". Mitchell looked at Kenzan and Korin and other Japanese artists in the British Museum. The rhythms and curves of Japanese screens, paintings and prints were etched into his soul and emerge in the overall curves of his works. "Korin used gold and silver foil, free paint and free drawing, flat paint and hard-edge design. All of which I found exciting and unusual…" In terms of the fashion trends at the time, Mitchell recalls that "there was a lot of layering in women's clothing, and design on design was one U.S. Vogue fashion theme that inspired me greatly."





Sydney 1980 – 2002


The reflection of New York in the Fifties and London in the Sixties comes out in Mitchell's mature, larger-scale work from 1980 when he returned to Australia from England. Now retired with a small pension, he lived in Neutral Bay and became totally absorbed in his art. He lived frugally, without TV, working in an often freezing studio. And, as he didn't drink, smoke or socialise, he only spent money on art materials, film, books, and one or two pieces of designer clothing. Furthermore, he didn't want to exhibit his work in galleries, as he didn't want to endanger his pension. However, he closely followed the art exhibitions of special interest to him such as Pop and Picasso presented at the Art Gallery of New South Wales.

Mitchell would spend much of his time walking all over the local harbour districts and city. These walks inspired his art and also major photography projects. "I used to do long walks all around North Sydney looking at the boats, birds, sailboards. Cremorne Reserve... especially the Shell Cove waterside path… it was all a winding path of glimpses of pictorial excitement… looking through… get glimpses through leaves and vines with the light hitting them – looking down and can't see anything clearly. That's the thing I like – all those possibilities."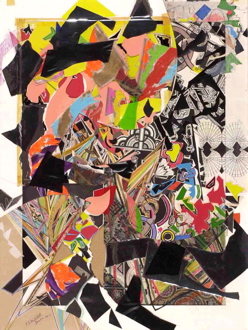 Mitchell's collage materials combine hand-cut, drawn and painted pieces with dress materials, photographs and fashion images. His method, what he felt was his contribution, was "interweaving". A favourite device was "twinning", where the piece left over from a cut-out was used in a new work, leading to alternatives and series, with "the shapes and colours all in reciprocal action". There are no dead surfaces in a Mitchell, and glitter emphasises the alive quality. He wrote, "well, at least I use spray paint, metallic ribbon, stick-on contact and Day-Glo paint better than Picasso".

Increasing deafness soon became a factor in Mitchell's reclusiveness, until finally, conversation with him was replaced with written exchange. The house in which he lived, and its furniture, were pale fawn, acting as a foil to his collage paintings, which he would periodically show to friends and relatives. His major obsession with Christmas resulted in elaborate Christmas displays – special works and room arrangements made up of kitsch, decorations, ornaments, and his paintings.

Fashion played a large part in the formation of Mitchell's aesthetic. It was a major influence on his work and he discussed it at length in his diaries. He liked its "futility", its uselessness except for its beauty. Describing a particular outfit he noted, "a mix of glittering decorativeness and torn destruction – Japan at the end of WW II? … it has a feel of that time. I just now read a brief paragraph on Rei Kawakubo (Comme des Garçons), her fashions – all torn, ripped common materials; description could fit my art".

Mitchell kept diaries obsessively documenting each nuance of thought, each thread of perceived connection with artists he admired. Many diaries were destroyed as too personal. Indispensable to an understanding of his work is his retrospective Photographic Diary, begun in 1985, of the paintings, books, prints etc that contributed to his aesthetic life from its beginnings in the newsagency. He pored over books on art of all periods, and magazines. "I personally know how Picasso felt about all those great artists – study them and they get inside you, sort of reincarnate themselves, and often all trying to paint at once. Also, I get in their way!" Mitchell's top ten artists (which always exceeded ten) consistently included Rodin, Picasso, Matisse, Bonnard, Kandinsky, Mondrian, Stuart Davies, Duchamp, Dali, Pollock, and above all, Warhol.


Conclusion

Mitchell regarded himself as an existentialist with a small "e", a natural development from his experiences of war and the following art movement, Abstract Expressionism. He makes many comments in his notes and diaries about the awfulness of life versus the decorative which hides it. His emphasis on the decorative must also result from his experiences as a prisoner of war when he was young. There are many relevant quotes that clarify his attitude.

"Anzac Day 1997: Raining on and off all day, the poor marching old soldiers would have been soggy. Anzac Day always makes me sad, thinking of all the ones I knew in WW II who didn't come back, the ones I knew in the Singapore battle, and in Jap POW camps. Some didn't reach twenty-one. Not only Anzac Day, I think of them and that awful experience – every day is a Rembrance [sic – pun with Rembrandt] Day for me; but I don't dwell on it, now it's just part of my thinking."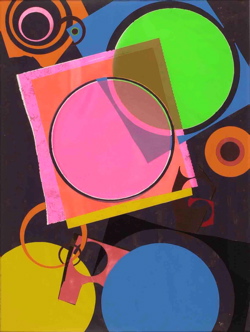 "All life is decorative. We humans are 99% self-invention and 1% basic true nature; - need such decoration for life to be bearable."

Throughout his diaries Mitchell defends the decorative against high art notions. He strongly believes decorative art and design can be "just as heavy and profound, … and as close to the big truths of life" as any other art. Mitchell would mock artists with "serious concerns" because there is "no blood and smell of cooked bodies", as he experienced going through Nagasaki a second time, after his release from Kobe prisoner of war camp. His wisdom was that "inter-weaving" is a metaphor for including his life's experiences. IT tells of a serious concern for the world, tying real life and real art into a whole.

After thirty years away from Australia Mitchell returned to Sydney in 1980. In a sense he took Hinder and Balson's abstraction from the Forties in Sydney forward to his own dynamic and sophisticated form of abstraction, which acknowledged the "collision of art, commerce, fashion, pop and advertising… in an age that recognises medium and message simultaneously".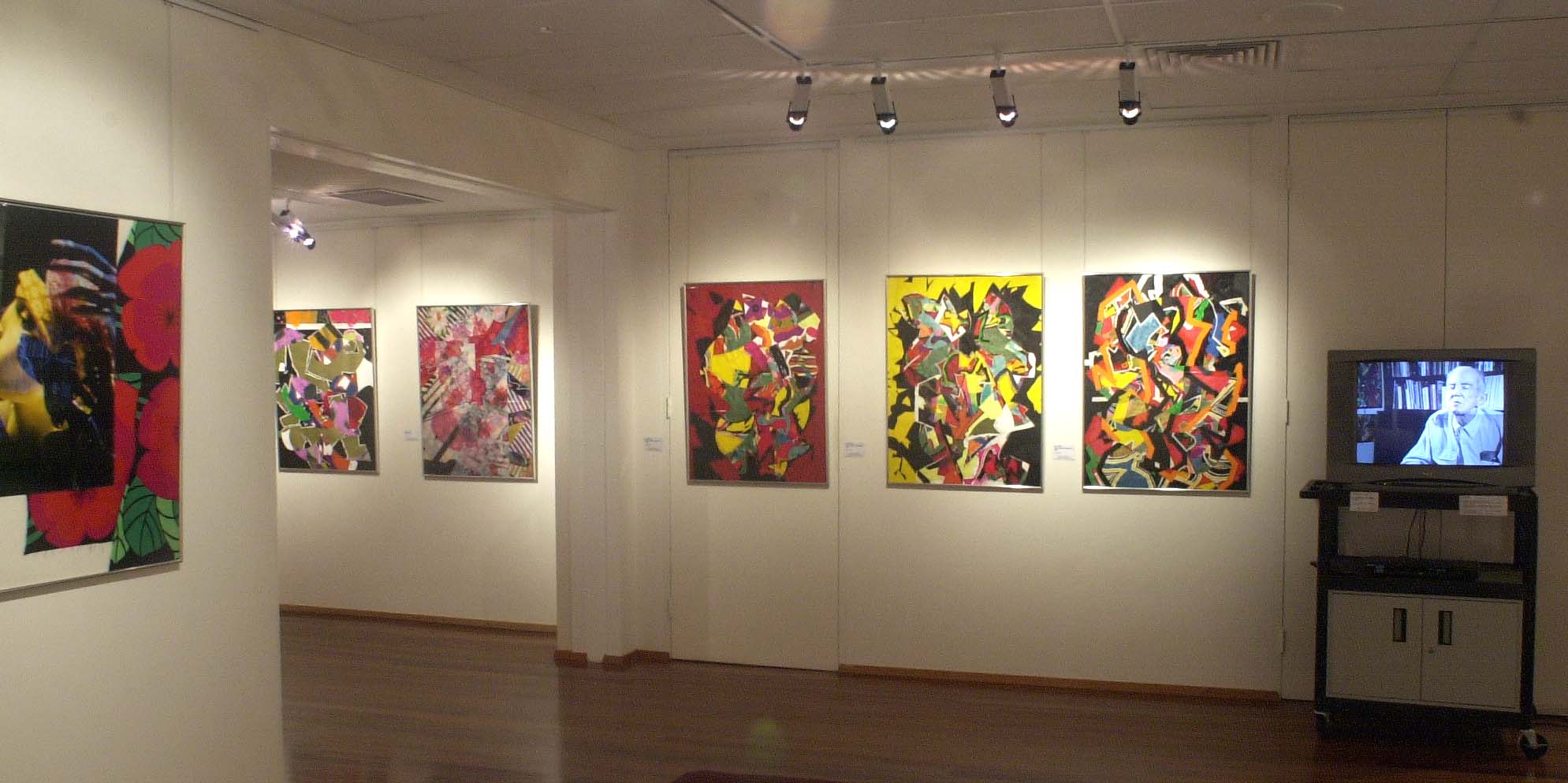 Source:
Abstraction & Obsession, The Collage Paintings of Bob Mitchell, Mosman Art Gallery, 7 February - 20 March 2004. Text by Exhibition Curator Renée Free