Early Works: Sydney 1946 to 1949 and France and London 1950

Robert Mitchell attended the National Art School as a returned servicesman with the Commonwealth Reconstruction Training Scheme to study art, where he spent the years of 1947 to 1949. Among his teachers were Wallace Thornton, Godfrey Miller and Phyllis Shillito teaching colour theory. She left a deep impact on the young student and started his fascination with collage.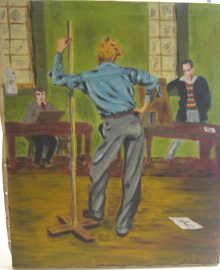 This studio scene measuring 56 x 45.5 cm is the first ever oil painting Robert Mitchell attempted. He inscribed it on the back in 1987: 'My first oil painting, done from a drawing I did at East Sydney Tech in 1946. I was rejected for CRTS day art course, so did evening class in drawing. Resubmitted this painting later on with a portfolio of works and was accepted for 1947 year in Strathfield CRTS annex."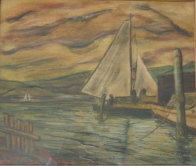 Golden Calm, 1948, pastel and watercolour, 37 x 45 cm. Inscribed verso: "2nd year intermediate art, Strathfield CRTS College, 8 guineas (crossed out) N.F.S." The work was exhibited and listed in the David Jones show in 1948.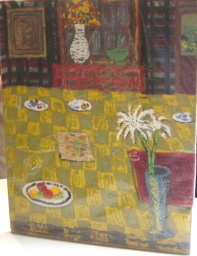 This Still Life is highly interesting: Robert Mitchell used mixed media, collage and fabric swatches, 46 x 36 cm, and thus seems to be the earliest forerunner of Robert Mitchell's later collage paintings.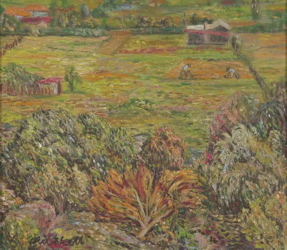 In 1949, Mitchell entered the Mosman Art Prize with "Landscape of Dee Why" (40 x 45 cm), showing influences of Bonnard and Van Gogh.

Other influences such as Picasso's cubism and Matisse start to emerge in his works in the 50s. From Toronto where Mitchell lived during the 50s, he went on regular visits to New York and witnessed the emergence of Abstract Expressionism with Jackson Pollock at the forefront, then Robert Rauschenberg and Frank Stella.






Robert Mitchell comments on the painting below on the left "Girl sitting at a table":

"Influenced by Bonnard and artist / teacher Wallace Thornton. I started painting like Bonnard. This painting was done in the South of France, Cassis, in 1950. I can see now (1985) that Bonnard "won"; he was deceptive."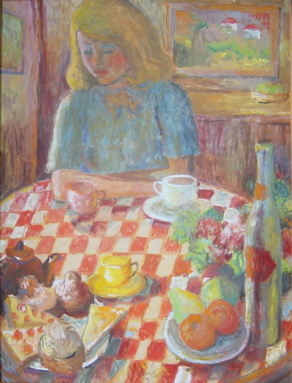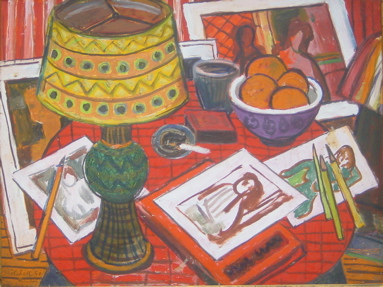 Girl, 1950, oil on board, 65 x 50 cm Still Life, oil on board, 46 x 60 cm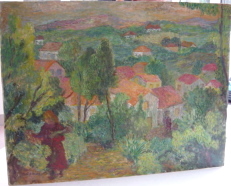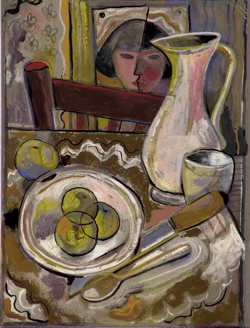 Village in France, 1950, oil on board, 47 x 62 cm Still life, oil, approx 70 x 50 cm